Ministries @ Main Street UMC
Various ministries at Main Street UMC are offered to meet the needs of our congregation and the community.
STEPHEN MINISTRY | KAIROS MINISTRY | BETHANY CAFÉ

CARE NETWORK | UNITED METHODIST WOMEN
MUSIC | SCOUTING | ADULT | CHILDREN
Stephen Ministry

Stephen Ministry, a dream for many years at Main Street UMC, is finally reality in 2011. After more than a year of preparation, our newest ministry is now available to this congregation and community to provide decidedly Christian, one-to-one care to hurting people.
With the commissioning of Main Street's team, our Stephen Ministers joined over 10,000 Christian Churches around the world offering the widely recognized ministry of compassionate and confidential relationships. Main Street is the first Stephen Ministry church in Kernersville.
Stephen Ministers provide distinctively Christian care to individuals who are experiencing some of life's difficult periods, such as grief, job loss, hospitalization, divorce, and home confinement to name but a few. All care receivers are assured of a completely confidential relationship. Stephen Ministers are not clinicians or counselors, but fellow Christians with special training who will listen to care receivers using Christ's com- mandment that we love one another.
If any members of our congregation are interested in having a Stephen Minister assigned to them, they should contact Pastor Amy or Pastor Jeff for additional information.
Kairos Prison Ministry
History
Almost 14 years ago the NC Department of Prisons formally agreed to open the doors and allow Christian men of different denominations to bring Kairos Prison ministry inside the walls of Central Prison in Raleigh, NC. Led by the Holy Spirit these men took the Word of God into Central Prison as the hands and feet of Jesus Christ. Kairos for prisoners is a three day short course in Christianity similar in nature to the Walk to Emmaus, Cursillo, Presbyterian Pilgrimage, or some other three day weekends. Kairos is defined as God's special time because each resident in Prison has the opportunity to experience God's special love for each one of us.

Agape or God's love
The residents of the prison experience God's love through agape which is the Greek word for sacrificial love. This sacrificial love is expressed by home cooked meals, prayer chains, cookies, personal letters, and testimonials.

Home Cooked Meals
The outside team is just as essential as the inside team. The outside team prepares special meals that you and I would take for granted. The inside team serves the meals and eats with the residents. These special meals consist of hamburgers, hot dogs, BBQ sandwiches, French fries, pizza, and other items not on the menu at Central Prison. Many residents of Central Prison hear about the wonderful meals and say they came for the food. This is the first step a resident makes to enter the Christian world.

Prayer
Another way the residents experience God's love is through prayer. Members of the congregation are encouraged to participate by committing to pray for the residents and staff of Central prison by signing a link for a prayer chain. These links are gathered from communities of faith from all over the world. The links are connected together and draped within the prison walls where all the Kairos guests can see and feel the power of prayer.

Cookies
Home baked cookies are a special treat. Prisons such as Central Prison in Raleigh allocate one dollar per day per meal for each prisoner. There is no room in the budget for desserts. Each inside volunteer is encouraged to bring one hundred dozen home baked cookies to Central Prison. Each resident and staff member of Central Prison receives 1 dozen home baked cookies. The prisoners and staff look forward to receiving the cookies more than anything else. The cookies are a tangible sign of the love of God.
-> Click here for Cookie Guidelines & Recipes

Impact of Kairos cookies
One volunteer on the outside told me that the cookies made a big difference in her life. While she was in prison she felt abandoned by her friends and family. She did not go to church on a regular basis. She did not feel loved. She did not have Jesus in her life. One day a box of home baked cookies showed up in her jail cell. She wanted to know where they came from. The guard told her that a group of Christians made them and gave them to everyone in prison because of the love of Jesus Christ. She wept over the cookies wondering how someone she did not know could love her enough to give her such a special gift. When she was released from prison she immediately joined a church and began organizing the baking of cookies for Kairos. These cookies have melted many hardened hearts to allow the love of Jesus to enter.

Letters of faith, hope and love
Each resident of the prison receives a personal letter from the volunteers who participate in the Kairos weekend. This is a special time where each person is given the gift of faith, hope, and love through a personal note.

Testimonials
Each participant has the opportunity to learn about Christianity through special talks and personal testimonials. The volunteers lead the talks about Christianity and after each talk there are opportunities to discuss each topic in a small group.

Closing ceremony
The closing ceremony is for some the mountain top experience. Residents are invited to share their experiences with the entire staff of volunteers and fellow residents. One young man gave a very impassioned testimonial. He said that he was skeptical at first and did not know what to expect. He had prior experiences with Christian groups that had been disappointing but Kairos was different. He had never felt the love of God like this in his entire life. He was a changed man.

Official website
If you would like more information about Kairos, the different facets of this ministry, and how you might help in the same was as we are instructed in Matthew 25:36, I would encourage you to view the official Kairos of North Carolina web site at http://www.KairosNC.org or www.KairosPrisonMinistry.org.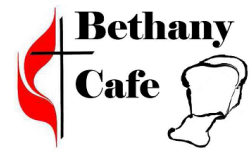 Bethany Café

Bethany Café was born on November 21, 2011 when around eighty people came together to make this dream into a reality. The Bethany Café is a place where people of different economic conditions can come together and share a free meal. Bethany Café is on the third Saturday of each month from 11:30am – 1:30 pm in our Fellowship Hall.
Bethany was the city of Mary, Martha and Lazarus where Jesus went for food and fellowship. The word "Bethany" comes from the Hebrew for "House of the Poor." So, it is obvious why Jesus would hang out in Bethany. For updates or to find out how you can help with this important ministry, please contact the church office.
Music Ministry

Do you love to sing? Do you play an instrument? Express your love of God through the Music Ministry at Main Street UMC. We have three distinct services that cover all styles of Christian music.
Cherub and Carol Choir (1 st thru 6th graders)
Nancy Blakemore, director, Melissa Dreshfield, assistant; Jill Branoff, accompanist.
Meeting Wednesdays, 6:15-7:00pm, room 421 (upstairs on the South end of the Adult Education Building.)
Angel Choir (4 and 5 year olds)
Debbie Crowder, leader; Gidget and Kaleigh Lawson, assistants
Alpha & Omega Youth Choir
Jenny Lail, director
Meeting Sundays 4-5 pm in room 201 in the basement of the Chapel building.
Chorale (8:30 Service Choir)
Meeting Mondays, 7:00-8:30pm in the Choir Room
Chancel Choir (11:00 Service Choir)
Meeting Wednesdays, 7:30-9:00 pm in the Choir Room
Jubliee Praise Team (8:45am service)
Rick Cobb, Worship Leader.
See Rick Cobb for more information.
Main Street Handbell Choir
Pat Hill, director
Meeting Wednesdays, 6:30-7:30pm in room 101
Blackwell Singers
Meeting the second Sunday of the month, 9:30- 10:25am with additional dates. See Nancy for a complete rehearsal schedule
Singing Kirkmen
Nancy Blakemore, director
Meeting the second Monday of the month, 8:00- 9:00pm
Main Street Orchestra
Nancy Blakemore, director
Plays for special events throughout the church year. Contact Nancy for more information.
Scouting Ministry

Scouting has been a part of Main Street's outreach ministry for nearly 80 years. Hundreds of girls and boys attend weekly and monthly meetings of Girl Scouts, Cub Scouts, and Boy Scouts.
Many of the adults in these groups are Scout award-winning leaders who have been trained through the Old Hickory Boy Scout Council or the Tarheel Triad Girl Scout Council.
Visit on the web: BOY SCOUTS | GIRL SCOUTS | CUB SCOUTS
Adult Ministry

Sunday School (20 adult classes meet each Sunday morning at 9:45)


beginnings classes for all seeking/growing Christians is offered throughout the year. This is a small group study for all ages.
United Methodist Men meet the second Sunday of each month at 7:15AM for breakfast and an inspirational program. There are also several small groups of men who meet for prayer and fellowship throughout the month.


United Methodist Women is organized for mission and our members are committed to growing as disciples of Jesus Christ in community with other women and building the lives of women, children and youth.


The Heritage Club is comprised of older adults meeting on the third Tuesday of each month for a covered dish luncheon. They also take day and overnight trips to places of interest.

Wednesday Morning Bible Study (Sept-May) at 11AM in Main Street's library. This Bible-based time of study and prayer is for adults of all ages.
Wednesday Evening Prayer Meeting

Disciple Bible Study and Jesus in the Gospels Currently we have four groups meeting at various times throughout the week.

Spiritual Formation Retreats

Sisters Study Women get together in small groups to study, fellowship and pray together.

Men's Bible Study Group

ChristCare Group We have five ChristCare groups at this time that meet regularly throughout the year.
Children Ministry

Sunday School - Located in the Education Building. Find the awning designated "Preschool" and enter. Go straight ahead up the steps. The nursery is on the first floor and classes for 3 years old through 5th grade are located on the second floor.
Children's choirs for all ages
Vacation Bible School during the summer months
Weekday Preschool Program We are very proud of our 42 year preschool tradition here at Main Street UMC. We are a half day preschool program offering love, fun, Christian values, academics, and a fantastic music program for children ages infant through pre-k. The preschool year begins in September and concludes in June. A summer program is offered in June and July. Click here to visit our website.
Scouting programs for boys and girls
Professionally staffed nursery services for all activities.
Kid Space A worship opportunity for children 5 years old and older, is offered at 11AM each Sunday (except the first Sunday when Communion is offered).